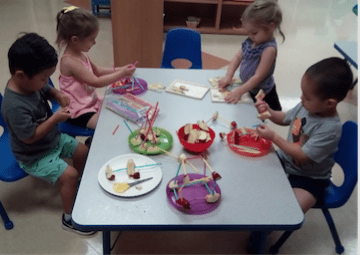 Can you believe it's almost time for pumpkins, trick 'r treating, and cooler weather? After a long summer full of hot days spent inside, it's time to head outside with your children and enjoy some outdoor adventures! If you're still stuck in a summer slump, here are some ideas to encourage your family to enjoy the fresh air and get creative.
Fall Leaf Painting is a great way to combine creativity and time spent outdoors. Your little one will love walking around the park and collecting different colored leaves that are beginning to fall from the trees. After they've gathered their favorite ones, lay out a white piece of paper and allow your child to place the leaves wherever they would like. Then, using beautiful fall colors, encourage your child to paint over the leaves. After allowing some time for the paint to dry, your child can practice their fine motor skills by gently peeling the leaves off of the paper and revealing a fall masterpiece underneath!
This Fall Leaf Activity creates a wonderful opportunity to spend time with your child talking about the different changing seasons. You will need: clear contact paper, fabric leaves (or real leaves if you'd like to get outside and find some of your own!), clear tape, a brown paper bag cut to look like a tree trunk, and scissors. Start by creating your tree and stick it to your wall. Above the trunk, add a circle of clear contact paper with the sticky side facing outward. Then, let your child have fun sticking the different colored leaves to the paper as you talk with them about why leaves change color and what happens during the fall season. You can even sort the different leaves based on color and use this as an opportunity to work on counting skills.
Outdoor Tree Bark Rubbing is an amazing way to get outside and create a unique masterpiece with your child! All you will need for this is some paper, tape, and crayons. Your child will love running from tree to tree and capturing all the different patterns the bark creates. This is a great way to talk with your child about how each tree has a unique pattern and you can even talk with them about the life cycle of trees and you could even supplement this activity by creating Montessori Inspired Tree Life Cycle Printables.
Acorn Painting is bound to get a little messy, but your child will absolutely love this fun new way to paint! All you'll need is a medium sized box, paper, acorns, and paint. Put the paper at the bottom of the box, dip the acorns in different colored paint, and then it's time to shake it up! After you've created your acorn painting, this is another opportunity to use your newly created Montessori Inspired Tree Life Cycle Printables.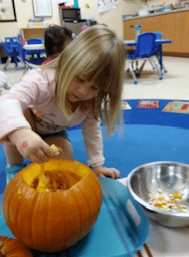 If you need a little more inspiration, here are some printable fall themed, Montessori inspired activities for you to print out and practice with your child at home:
Life cycle works offer a great opportunity for you to sit down with your child and talk about the different phases of life for different living things and practice vocabulary skills. Here are some free printable Montessori inspired life cycle activities for you to do with your child: Halloween Spider Life Cycle Printable, and Pumpkin Life Cycle Printable.
For your older children, these free Printable Halloween Cutting Strips and Printable Apple Cutting Strips are a fun and festive way to practice scissor skills and safety.
If you're looking for a fun way to encourage math skills, for a small fee you can purchase this Halloween Math Interactive Notebook. You can customize your notebook to cater to your child's individual needs and learning style, but the one featured covers skills such as: Number quantity, gluing and cutting, coloring pages, and writing number symbols. The printable pack includes: 0-9 large writing cards, 0-9 number quantity cards (themed cards with images), 0-9 word cards, and 0-9 coloring cards.
Lastly, here are some October Practical Life and Fine Motor Activities for you to do with your children. These are very versatile because toddlers to kindergartens can enjoy these activities. These Halloween themed works include everything from leaf puzzles, leaf rubbing, and bead sorting to googly eye transferring using a spoon.
Fall is one of the best seasons for heading outdoors and enjoying the amazing weather. There are countless fun and educational activities for you to enjoy with your little one as you embrace the season.