Have a piece of the Montessori classroom at home! This simple and affordable project will help your toddler develop language skills as a fun and engaging work.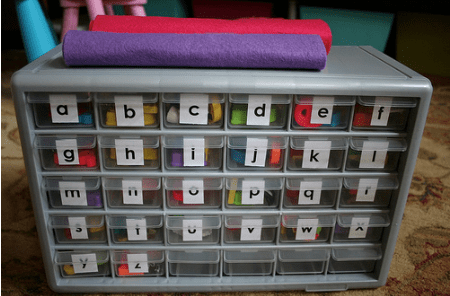 Materials:
Paper
Scissors
Tape/Glue
Little trinkets
Storage box/boxes with 26 individual sections

Making the alphabet box:
Label the box! Print the letters and tape/glue them to each drawer
Fill each drawer with material related to the specified letter (Ex. marble for M, toy zebra for Z, magnetic letters, etc.)
An alphabet box at IKM
How to use: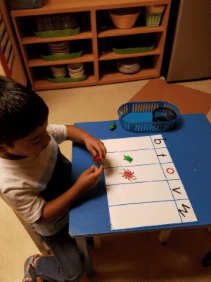 When your preschooler is ready to work, have him/her pick a drawer and unroll a mat or sit at a desk.
Observe as he/she carefully pronounces each object in the drawer, emphasizing the first letter.
Ex. M-m-m-marble! M!
When finished with the work, allow him/her to put all materials back in the proper drawer and clean up the work space.
The Goal:
Alphabet recognition, phonetic sound recognition, focus development, and independence