Thanksgiving is a day that brings families together, a day to reflect on all that we are thankful for in our lives, and also a day to frantically prepare a delicious feast. When you have a stove full of overflowing pots, a mountain of potatoes that need to be peeled, and a child who wants to be part of the action, Thanksgiving can quickly turn from a relaxing family day to a chaotic scramble. Luckily, there are projects you can delegate to your little one in order to help them feel included and give you a much needed extra hand!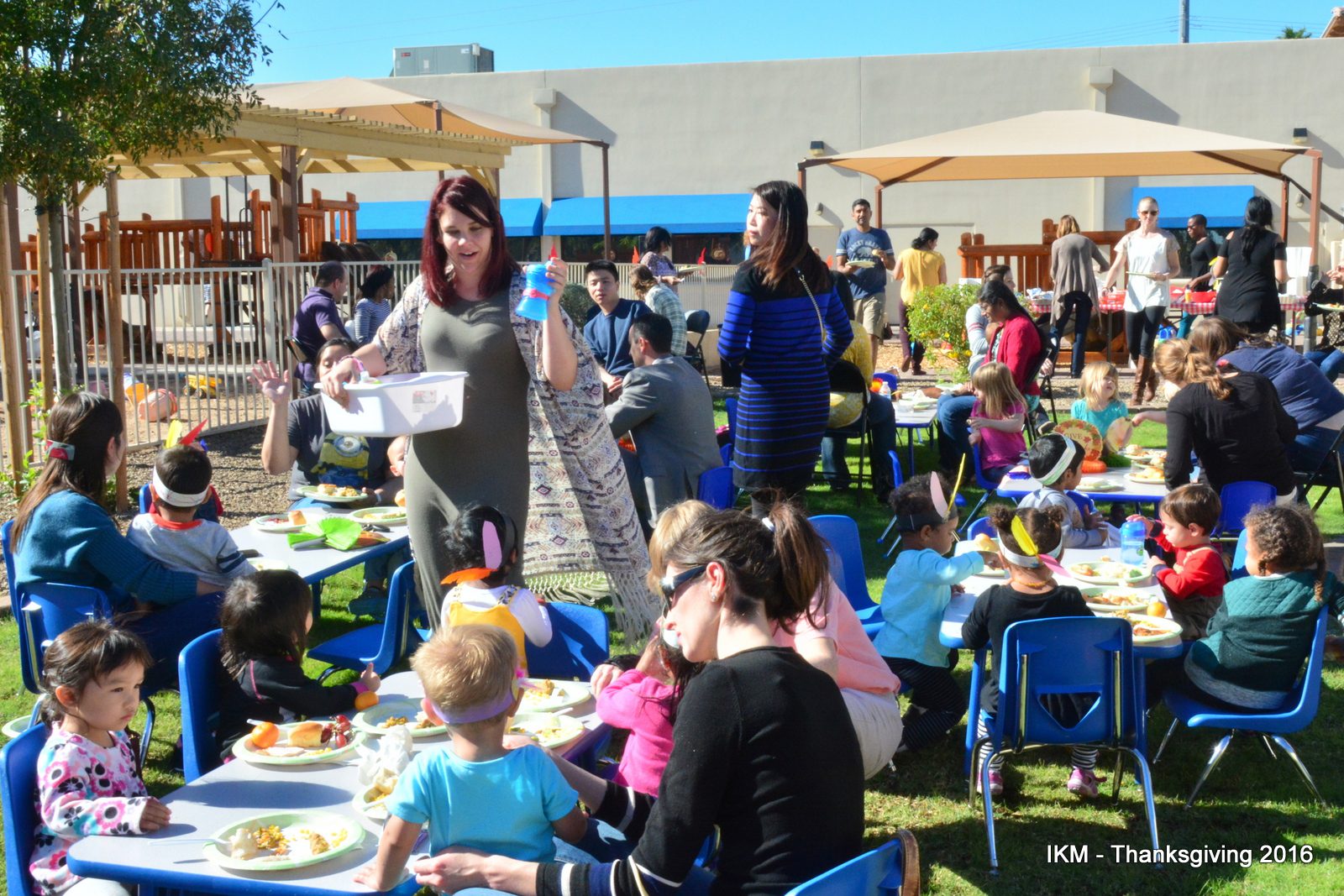 Everything's better with butter. Your child will love making their own homemade butter in a jar, and it will also serve as a learning experience for them as they watch heavy whipping cream and salt combine together and "magically" take a new, delicious, form! All you'll need for this project is a glass mason jar, 8 oz of heavy whipping cream, salt, and a little one who's ready to shake it up! Combine all of your ingredients in the jar, hand it off to your child, and tell them to shake it as hard as they can. Take time to pause and examine your creation through its different stages as it transforms from pure liquid to fluffy whipped cream to creamy butter! Next, grab a fresh dinner roll, plop a scoop of butter in the middle, and enjoy!
Part of the fun of Thanksgiving is the fall decor! Your little one will love being in charge of crafting up the perfect place settings and "assigning" everyone seats at the table. One very simple and festive option is Thankful Pinecone Turkeys! Allow your child to get creative and use googly craft eyes, paper feathers, and pipe cleaners as the turkey's feet. On each paper feather, take some time to ask your child what they are thankful for this year and write their answers on the feathers. You can also have your child write each guest's name on the feathers to help them find their spot!
After the table is decorated, you can teach your child how to properly set the table with plates, napkins, silverware, and glasses. Print out this easy to follow Thanksgiving Cheat Sheet and allow your child to follow it. If your child is too young to handle expensive dishes, ask them to help you count how many knives, forks, spoons, and plates belong at each spot.
Everyone knows one of the best parts of Thanksgiving is the pie! This year, your little one can do more than just devour it. They can help you create it! Kids love sweet treats and will enjoy it even more if they make it themselves. Here are some recipes that are easy as pie! These Easy Apple Pie Bites only have a few ingredients, and instead of creating the perfect pie lattice, all you need to do is roll it up like a croissant. This Skillet Apple Pie has simple ingredients and an easy to create crust. Your child will enjoy putting all the ingredients inside of the pie and laying the crust over the top. All you'll need to do is put the whole skillet in the oven, bake, and enjoy this unique spin on the classic apple pie. If your child wants to create their own pie and carry out every step, try this No Bake Pumpkin Pie! That's right – no cooking required! With a little pumpkin puree, instant pudding, and cool whip, your child can create the easiest (and creamiest) pie at the table!
We hope your Thanksgiving is full of delicious food and wonderful memories!