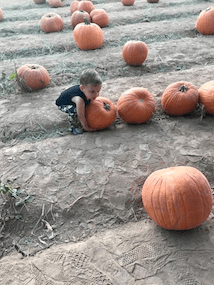 Soon, neighborhoods will be filled with adorable tiny goblins and witches on the hunt for candy. Aside from the usual pumpkin carving and trick 'r treating, here are some fun and enriching activities to enjoy with your little pumpkins to help make their Halloween a little more magical.
Montessori – inspired life cycle activities are a great way to teach your child about the changing seasons and the different plants and animals that accompany each. This Pumpkin Life Cycle Activity includes free printables to help teach your child about pumpkins. They will learn how the jack-o-lantern they are carving began as a small seed, turned into a sprout, then a vine, and finally, a pumpkin!
Mystery Boxes are a great sensory activity which allow your child to feel different textures and guess what is inside of the box. Put a spooky spin on this activity with these Halloween Mystery Boxes which include brains (spaghetti), witch fingers (carrot sticks), monster teeth (corn kernels), and monster ears (dried apricots)! Your child will love guessing what they are touching and the best part is, it's incredibly easy to make, and you can even turn some of the items inside into a tasty snack afterwards! Spooky Noodles are another fun sensory activity for your little one to enjoy. All you'll need to do is boil some spaghetti, add some food coloring to make it Halloween colored, add some plastic spiders, and let your child stick their hands (or feet!) inside and enjoy the slimy sensation.
Did you know you can incorporate STEM activities into Halloween? This Pumpkin Structure activity puts a fun Halloween twist on the infamous Marshmallow Challenge. For this activity, you will need gummy pumpkins and toothpicks. Encourage your child to either build the tallest tower possible, or explore using different layouts of pumpkins and toothpicks to create unique structures. This simple activity incorporates valuable building and engineering skills. The opportunities for your child to build are endless, as they can build everything from a simple tower to a complex witch's hat!
We all love taking our little ones to the pumpkin patch, even if the pumpkins come home covered in dirt and mud. This Montessori Inspired Pumpkin Scrubbing activity is a great way to let your child learn valuable life skills! Make the activity satisfying and purpose-driven for your child by letting them color on the pumpkin with markers and then washing it off.
For your little ones who are practicing their fine motor skills, try this Spider Web Activity! All you'll need is a plastic bin, yarn, plastic spiders, and some clothespins. After placing the spiders on the bottom of the bin, thread the yarn through the holes, and encourage your child to grab the spiders using the clothespins. Depending on how much practice your child has with fine motor skills, you can loosen or tighten the yarn to adjust the difficulty of maneuvering the spider through the threads without getting caught. For your older children who are practicing their scissor skills, this Scissor Skills Pumpkin activity will help them cut straight lines and encourage them to use their engineering skills to construct a paper pumpkin.
We wish you and your little monsters a fun and safe Halloween this year!