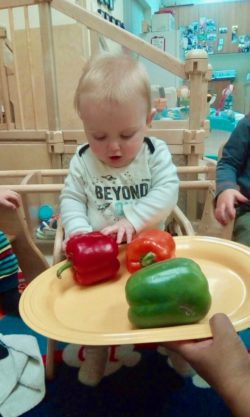 Do you worry about your child eating enough fruits and vegetables? Does it seem like they only want to eat fruit snacks and cookies? According to Health.gov, children should eat at least 3 servings of veggies and 2 servings of fruit per day. If you're struggling to get your child to eat healthy foods, here are some delicious "hidden fruit & vegetable" recipes for every meal of the day!Breakfast

Lunch
Who doesn't love pizza? These Veggie Packed Pizza Rolls will please even the pickiest of pallets, while also providing a sauce packed with nutritious vegetables. If your child does not like the different textures of vegetables, these pizza rolls eliminate that issue by "hiding" the veggies in the sauce. There are nine different vegetables in this delicious recipe: orange bell peppers, red bell peppers, green bell peppers, carrots, golden cherry tomatoes, mushrooms, red cherry tomatoes, and even…spinach! These pizza rolls cook quickly, and you can freeze extras (if you have any left!) and easily warm them up for a quick meal.
Pumpkin Mac & Cheese Cups put a nutritious spin on a classic recipe! These mac & cheese cups are easy to make and freeze to use throughout the week. By adding pumpkin puree, your child will enjoy nutritional benefits such as increased heart health from the fiber, potassium, and vitamin C content. That's right – mac & cheese can be good for your heart!
Dinner
Sweet Potato Alfredo puts a new twist on a beloved recipe! The only extra step you'll need to take is adding sweet potato puree to your favorite alfredo sauce. Your kids will love the added creaminess and sweetness from the sweet potato, and you'll love the added nutrition!
Your picky kids will love these Mouth Watering Hidden Veggie Meatballs! The secret is blending spinach, tomatoes, onions, and peppers until smooth and mixing this into the meat. After you've created your meatballs, simply cook them in the crock pot and put them on top of your favorite pasta. Simple and healthy!
The Inspire Kids Montessori family hopes you enjoy these recipes! Do you have any hidden veggie recipes your family loves? Share them with us in the comments.