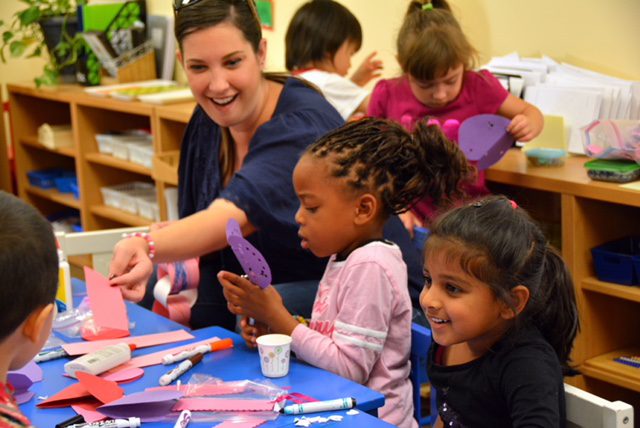 Valentine's Day is just around the corner! If you're looking for sensory-filled, educational activities to do with your little sweetheart to celebrate, you've come to the right place.
Sensory bottles are a great activity for babies. With intriguing colors, shapes, and sparkles inside, your little one will be fixated on the slow-moving objects inside of the liquid. Sensory bottles are also a great option to use when your toddler needs some quiet time. Instead of putting them in time out, ask them to sit quietly and use the sensory bottle. It will help them calm down by helping them focus on finding objects inside of the bottle. Here are some of our favorite Valentine's Day sensory bottles for you to create at home: Glitter Hearts Jar, Slow Falling Hearts Sensory Bottle, Valentine's Sensory Jars.
If you're looking for something on a grander scale, dump everything into a plastic tub and try out this Valentine's Sensory Soup!
Valentine's Day doesn't have to be all sugar & spice! This recipe for Valentine's Gloop is messy, fun, and a great way to explore new textures. After mixing all of the ingredients together, challenge your kids to experiment different ways of interacting with the gloop. What happens when you add more water? More cornstarch? Can you scoop all of it into a bowl? The opportunities are endless! This Valentine's Day Slime is another ooey gooey way to celebrate!
Who doesn't love playing with shaving cream!? This squishy activity is a great way to let your kids explore the unique texture of shaving cream while making a keepsake piece of art. All you'll need is a small container, paper, shaving cream, paint, and a marble. Squeeze the shaving cream into the container, add paint and a marble, and have your child roll the marble around. After they've made their design in the shaving cream, have them place a piece of paper on top and watch as their artwork transfers over to the paper heart! You can even use these to create homemade Valentine's Day cards.
These Valentine's Day Fine Motor Skill Heart Printables will allow your children to practice their scissor skills as they cut out their very own paper heart! Afterwards, they can punch holes around the border and even practice threading yarn through the holes. These Touch and Feel Hearts are a wonderful way for your child to explore different textures! Cut out small paper hearts and add different textures on top including pompoms, aluminum foil, sandpaper, colored sand, colored glue, felt, masking tape, and tissue paper.
Conjure up your very own love potion with your little ones! Simple ingredients such as baking soda, Kool-Aid, vinegar, and glitter create the perfect fizzy concoction! This Valentine's Love Potion experiment puts a sweet twist on the classic exploding volcano experiment.
If you're looking for a fun Valentine's Day STEM project, all you'll need are toothpicks and marshmallows! These Heart Marshmallow Toothpick Towers are a great way to encourage your child to practice their engineering skills. Whether they build a huge tower or several miniature shapes, they will love this simple, fun, and engaging activity. Here are some more great STEM projects for you to try this Valentine's Day: Leftover Candy Heart Stem Projects, Conversation Hearts STEM Tower, Valentine's Day Coding.
Happy Valentine's Day from the Inspire Kids Montessori family to yours! Did you try one of these activities with your little one? Let us know how it turned out