The holiday season is in full swing! Soon, your little ones will be on a winter break from school, and instead of watching movies all winter, here are some fun activity ideas to engage their minds when school isn't in session. No matter what your family celebrates, we hope you enjoy these fun activities during the holiday season!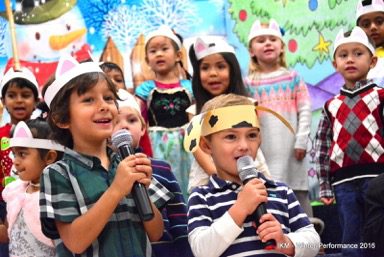 This Montessori inspired Button Christmas Tree activity encourages creativity and helps your little one practice their fine motor skills. For this activity, you will need felt, buttons, and glitter paint. Cut out the Christmas tree shape, sew on some buttons, and encourage your child to make circular ornaments out of felt. Then, after their ornaments are complete, have your child button them onto the tree! You can add to the tree throughout the entire holiday season.
Keep your child's scissor using skills sharp with these festive Christmas Cutting Practice Sheets that help your child cut smooth lines and learn about symmetry. With fun shapes including gingerbread men, ornaments, and gifts, your child will have fun guessing what the completed cutout will look like when they're only able to to see half the shape.
This Hannukah Sensory Bin is a great way for your child to tactilely explore the different elements of Hannukah. They will enjoy feeling around the bin and exploring the different items and textures including: Hanukkah foam stickers, dreidels, mini menorah, candles, Hanukkah Puzzle and white & blue yarn. While your children are enjoying the sensory bin, "Light the Menorah" is the perfect story to accompany it!
We don't get much snow here in Arizona, so why not bring the snowstorm to you!? This Snowstorm in a Jar is a fantastic sensory activity for your little ones to see how snowstorms work. For this activity, you'll need: A jar or similar container, baby oil, white paint, water, iridescent glitter, alka seltzer – optional: blue food coloring. Fill up the jar with baby oil, and then add a mixture of white paint & water. Then, add the blue food coloring and have your child add the glitter. Once everything settles, break up pieces of the alka seltzer and watch the snow storm magic come alive!
This Montessori inspired Gingerbread Fine Motor Craft is an adorable way to help your child practice their fine motor skills as they use a transfer tool, such as quick sticks or tweezers, to decorate their very own foam gingerbread man cookie with pom poms and sequins.
If your child wants to practice STEM activities, this Christmas Cup Tower STEM activity is a fantastic way to help them utilize their engineering skills. Plus, all you need for this activity are plastic cups and a lot of imagination!
Have you ever wondered which liquids dissolve candy canes the fastest? Now you can find out with this Dissolving Candy Cane science experiment! For this experiment, all you'll need are glass jars, candy canes, and water, oil, and vinegar. Fill each jar with the same amount of each liquid, place the candy canes inside, and watch to see which candy cane dissolves first!
We hope you enjoy these activities with your children. Happy holidays from the Inspire Kids Montessori family to yours!